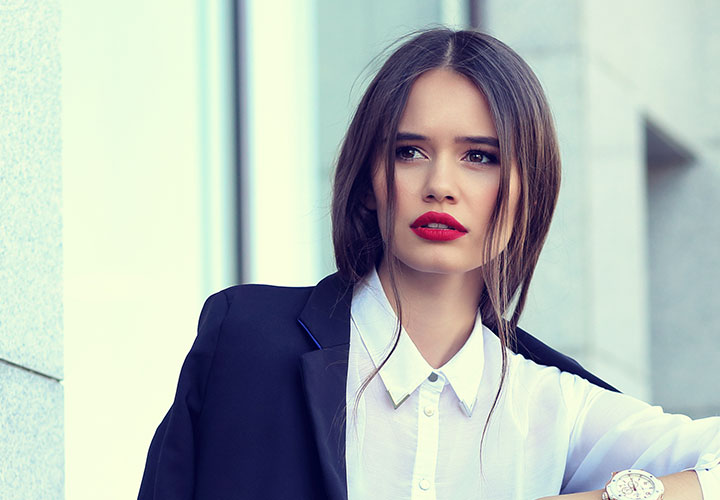 Dermal fillers have been called "liquid facelifts" because they offer many of the benefits of a surgical facelift without the downtime. Fillers are a clear gel formulation of hyaluronic acid that is specifically formulated to act like our body's own naturally produced hyaluronic acid, helping to instantly, visibly reduce moderate to severe facial wrinkles and folds or add fullness to the lips. Areas that respond very well to this treatment are the lips, nasolabial folds, frown lines, corners of the mouth, and "marionette lines" below the mouth. The hollows under the eyes also can be addressed with this procedure.
As we age, our lips lose volume and become thin and flat. Very successful lower facial rejuvenation comes from restoring the lips to their natural fullness while not overdoing the effect. When the lips are full and well-defined, they impart a sense of youth, health and attractiveness. Dental and osteoporotic changes also cause the edges of the mouth to hang down in a frown position. Well-placed injections by an experienced surgeon who has a thorough understanding of facial anatomy can yield remarkable results with minimal downtime and only reasonable expense.
At Valley View Laser MD, dermal fillers are given with topical anesthetic to reduce discomfort throughout the treatment. Dr. Mark Maria has extensive experience with facial rejuvenation techniques and has been using dermal fillers since their initial FDA approval. In the hands of Dr. Maria, an experienced Board Certified surgeon, these treatments can take five to ten years off your face in less than an hour in a safe, precise fashion at a fraction of the cost of more invasive procedures.
How do injectable fillers work?
Fillers work in two ways: Upon injection into the middle to deep dermis (skin), the clear gel adds volume and fullness which smooth facial wrinkles and folds. The filler integrates into the dermal tissue, then attracts and binds to water molecules within the skin to help maintain volume. These non-permanent dermal fillers eventually degrade and are absorbed harmlessly by the body.
How long do injectable fillers last?
The average treatment results last six months or longer.
Is any of the material left in the skin after it is degraded?
No. Unlike permanent fillers, injectable fillers are completely degraded. Over time, the gel is eliminated by the body, leaving absolutely no trace of the injected material.
What should patients do prior to treatment?
Injectable fillers require no pretesting, but patients should take a few precautions before being treated. Patients should avoid using aspirin, non-steroidal anti-inflammatory medications, St. John's Wort, or high doses of Vitamin E supplements prior to treatment because these may increase bruising or bleeding at the injection site. Also, if patients have previously suffered from facial cold sores, there is a risk that the needle punctures could contribute to another recurrence. Patients may consider an antiviral medication to minimize recurrence.
How do injectable fillers differ from bovine collagen?
Bovine collagen is derived from animals and requires an allergy test before it can be used. Because the material of the dermal fillers we use is a non-animal based hyaluronic acid, it can be administered without pretesting. In addition, injectable fillers deliver a longer-lasting effect than bovine collagen.
What are possible adverse reactions?
As with any injection, some injection-related reactions can occur. The most commonly reported side effects are temporary redness, bruising and/or swelling at the injection site. These effects typically resolve within two or three days and are minimised with the use of ice compresses for the first day.
What are the Brand names of the different fillers?
Elevess
Hydrelle
Hylaform
Juvederm
Perlane
Prevelle
Restylane
For more information, please visit http://www.restylaneusa.com/
Visit the Gallery to view after treatment results.
Put your best face forward with the help of Valley View Laser M.D.