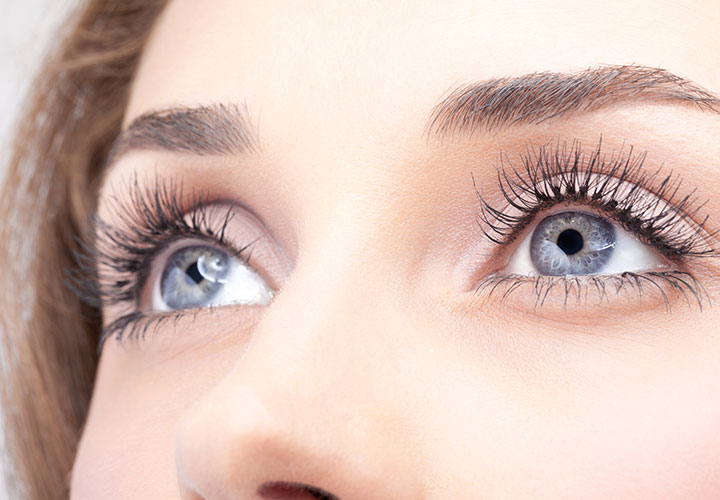 Latisse for eyelashes has been shown to produce eyelash growth in just a few short weeks of use. Latisse is not an eyelash serum, but it is the best lash treatment for eyelash growth. A formulation of a drug that was used to treat glaucoma, Latisse was was found to be a lash growth product as a side effect. With Latisse for eyelashes, you can stop guessing how to make your eyelashes grow.
How To Grow Eyelashes with Latisse
Latisse for eyelashes is brushed daily on the base of your upper eyelid (not on the lower eyelid) with a special sterile applicator to promote lash growth. The product contains bimatoprost, which keeps lashes in a perpetual growth phase, resulting in the best lash treatment that is superior to any eyelash serum. During clinical trials with Latisse for eyelashes, participants experienced measurable changes: On average, eyelash growth results included 25% longer eyelashes, 106% fuller eyelashes and 18% darker eyelashes after 3 months of use. While it is not an eyelash serum, Latisse lash growth products provide permanent eyelash results as long as the product is used, offering the best lash treatment and the best answer to how to grow eyelashes.
How Soon Will I See Eyelash Growth?
After about 12 weeks of daily use, you will begin to see long eyelashes and fuller eyelash growth, which should reach its peak at week 16. Use of Latisse for eyelashes must be continued in order to maintain the results of this best lash treatment. If you discontinue use of this lash growth product, your eyelashes will gradually return to normal.
Are There Any Side Effects of Latisse for Eyelashes?
Side effects of this lash growth product have been reported in some patients. The most frequently reported (4% of patients) side effects of Latisse for eyelashes are itching sensations and eye redness. Less common side effects of these permanent eyelashes include skin darkening, eye irritation, dryness of the eyes and redness. A complete eye evaluation is recommended prior to starting Latisse for eyelashes. You can buy Latisse at Valley View Laser M.D., and it is sold in a one-month supply.
For more information about Latisse for eyelashes and photos of eyelash growth visit http://www.latisse.com/
Visit the Gallery to view after treatment results of this lash growth product that offers permanent eyelash results.