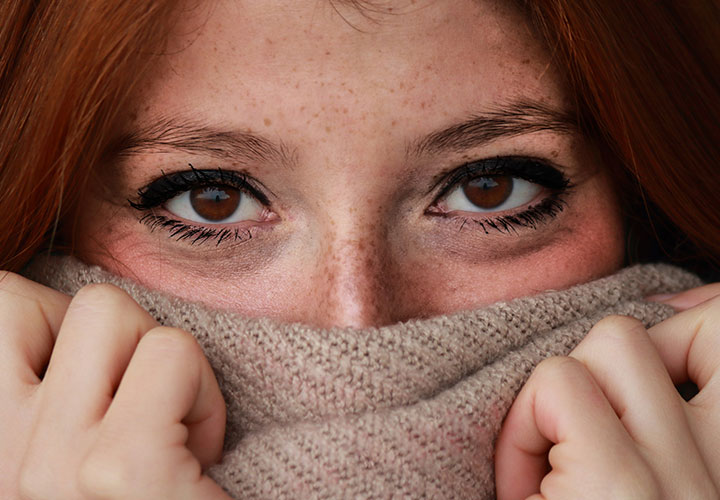 What is facial rosacea and what causes rosacea?
According to the National Rosacea Society:
Rosacea (pronounced roh-ZAY-sha) is a common but poorly understood disorder of the facial skin that is estimated to affect well over 16 million Americans — and most of them don't know it. In fact, while rosacea is becoming increasingly widespread as the populous baby boom generation enters the most susceptible ages, a Gallup survey found that 78 percent of Americans have no knowledge of this condition, including how to recognize it or what to do about it. Because of its red-faced, acne-like effects on personal appearance, however, it can cause significant psychological, social and occupational problems if left untreated.
In addition:
In surveys by the National Rosacea Society, more than 76 percent of rosacea patients said their condition had lowered their self-confidence and self-esteem, and 41 percent reported that it had caused them to avoid public contact or cancel social engagements. Among rosacea patients with severe symptoms, 88 percent said the disorder had adversely affected their professional interactions, and 51 percent said they had even missed work because of their condition.
Treatment for rosacea on the face and mild rosacea includes oral medication and antibiotics, but this type of rosacea skin care can have systemic side effects and take weeks to be effective. Additionally, rosacea skin care that is medication-based can be dangerous for women who are pregnant or nursing. The best treatment for rosacea is a light-based treatment for rosacea that can work quickly. This treatment for rosacea on the face is not a laser treatment for rosacea. It includes sessions of rosacea skin care that may take less than 30 minutes. Since it is the best treatment of rosacea, you may see visible improvement after your very first treatment. Light-based treatments for facial rosacea provide the best treatment for rosacea in the form of a targeted remedy that affects only the blood vessels without harming healthy skin.
How does the rosacea skin care treatment work?
IPL is a particularly successful therapy for facial rosacea and is the best treatment for rosacea because of the light beam's effectiveness on a wide range of pigments  and its affinity for small veins and inflamed cells during treatment for rosacea on the face. As the light pulses are absorbed into the pigment within the cells and blood vessels of the affected area, the light-based rosacea skin care treatment causes thermal damage to the vessel wall. The damaged blood vessel is then absorbed into the body as part of the natural healing process and skin redness is greatly reduced as treatment for rosacea on the face continues. Once the vessels responsible for the facial rosacea are treated, the redness and rash can disappear. As the best treatment for rosacea, IPL therapy can provide skin tone improvement by diminishing the appearance of broken blood vessels and acne-like breakouts associated with facial rosacea and offering rosacea papules treatment.
Men and women who suffer from facial rosacea see skin redness on the nose, cheeks and elsewhere on the face, and they can benefit greatly from Intense Pulsed Light (IPL) rosacea skin care treatments. The Cynosure IPL is programmed to target facial rosacea's pockets of visible and hidden veins and unsightly redness to provide effective and long-lasting treatment for rosacea on the face.
IPL treatments for rosacea on the face are exceedingly safe, effective and economical alternatives to the often ineffective and frustrating rosacea skin care treatments that many patients now use on a daily basis. Clinical studies for light-based therapy, which is not a laser treatment for rosacea, have shown a significant reduction in skin redness, flushing, swelling, inflammation and discomfort, as well as providing rosacea papules treatment. Valley View Laser M.D. administers the IPL treatments for rosacea on the face, rosacea papules treatment and spider vein treatments quickly and safely in our certified healthcare facility.
Fewer side effects than medication for rosacea skin care treatment.
How long does this help rosacea?
Facial rosacea is a chronic condition, and although IPL provides the best treatment for rosacea, patients need to realize that this is a rosacea skin care treatment, not a cure, for facial rosacea. Long-term preventive measures of treatment for rosacea on the face including medical therapy and avoidance of lifestyle and environmental factors that can cause rosacea and trigger flare-ups are often needed. Because underlying rosacea skin care issues remain, IPL and/or laser treatment for rosacea may again be required one to three years after an initial series of treatments to provide the best treatment for rosacea. 
Stop covering mild rosacea and facial rosacea and start seeing results by undergoing the best treatment of rosacea! Call now for your initial facial rosacea and rosacea papules treatment evaluation.
Visit the Rosacea Skin Care Treatment Gallery to view after treatment results.